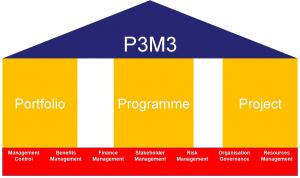 As many of you will know, P3M3® is the world's number one framework for assessing organisational maturity and performance in portfolio, programme and project management.
If this is a new concept to you, click here for a quick introduction.
This free briefing (pdf) outlines the key concepts of P3M3. Right click this link and 'save as' to download the interactive overview, please view it in either Acrobat or Adobe Reader.
We have also put together a video to take you through the history and concepts behind P3M3, we hope you will take a look
P3M3® is a [registered] trade mark of AXELOS Limited, used under permission of AXELOS Limited. All rights reserved.