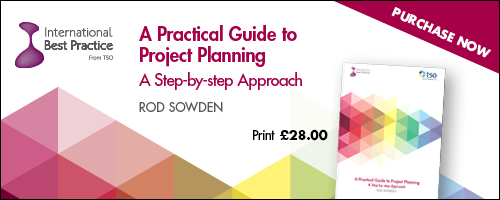 Ten things that will you find in the Practical Guide to project planning – a step by step guide that you won't find in other
planning books:
It is written with you in mind! We are not expecting you to be a guru, building the Olympic Park or managing High Speed 2, everyday projects are hard enough

Successful planning is about people and behaviours! Rather than techniques and tools, the data needed for planning is assembled through a number of activities, not making up numbers to feed into a software package

Business projects are different to technical projects! So we have used a business project as the case study, these tend to be less predictable and have elements of different project types in them

Moderating optimism! We have included guidance on setting priorities, estimation and helping to moderate the optimism bias gives you more chance of finishing successfully

Planning lifecycle! We have used a lifecycle that shows the stages and events that trigger planning activities, instead of giving you a list of techniques, we bring it to life for you. The focus is on "How" to plan rather than telling you "what" to do

Techniques at the right time! Every step of the way we offer a technique to use at each point, with an explanation of what it does and how you should use it

Worked examples! We illustrate each technique with a worked example based on a case study that provides an example of everyday challenges we face
Templates and tools! All part of the process, but effective planning is based on having the right information available at the right time, the focus of the book is on systematically collecting this information

Useful check-lists! Common areas of failure for most projects, to help you avoid making them, we also include an example template on how to assemble your planning information

Clear responsibilities and tasks for all the main roles involved with planning, which is everyone involved with the project!
For more information on  the book and how to buy from The TSO, click here