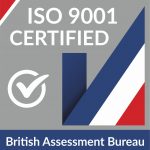 I am really pleased to announce that we have just completed our full ISO 9001 audit and come out with a clean bill of health.
The ISO 9001 commitment has been an important part of our evolution over the last four years. When we started in 2004, we were the first company to become an Accredited Consultancy Organisation (ACO) by The APM Group and later that year we also became an Accredited Training Organisation (ATO).
There were exacting standards needed to achieve this recognition and, as a new company, it meant we built robust, quality and customer focused processes upon which much of our success has been built. However, since 2010, the departure of the altruistic and positive influence of the Office of Government Commerce (OGC), and the race to the bottom in terms of price and quality, has meant the ATO and ACO accreditation are not seen as prestigious as they once were.
We could have cut costs and quality, but we decided to go the other way, raise our standards and raise our quality and move towards ISO 9001 certification to keep us on our toes and ensure our customers receive the service they deserve. This commitment has led to numerous changes internally to align with the ISO 9001 model, some of which have been technical, but all have been worthwhile.
I'd really like to thank the team that run our operations for making this happen, particularly Claire as our Operations Director that never misses a trick, Penny as our passionate and enthusiastic Operations Manager, and Sarah, our Project Manager whose sense of humour has been seriously challenged along the way.  Along with the support of the rest of the team it was a job well done.
Rod Sowden
Managing Director